Read the latest blog from Weekday
Circularity is the future for fashion
At Weekday, we believe the future of fashion is circular, and that we have to relearn how we operate to achieve this. Achieving a circular fashion economy requires radical transformation and we approach it as an exciting, as well as crucial, opportunity. We're at a phase of acceleration, intensifying our transition to a more circular fashion business.
A circular business model keeps products and materials in continuous circulation. In the conventional linear business model — take, use, discard — resources are used to make products which are then discarded after use. In a circular model, resources stay in use for as long as possible before being converted into new products and materials, resulting in continuous circulation of valuable resources.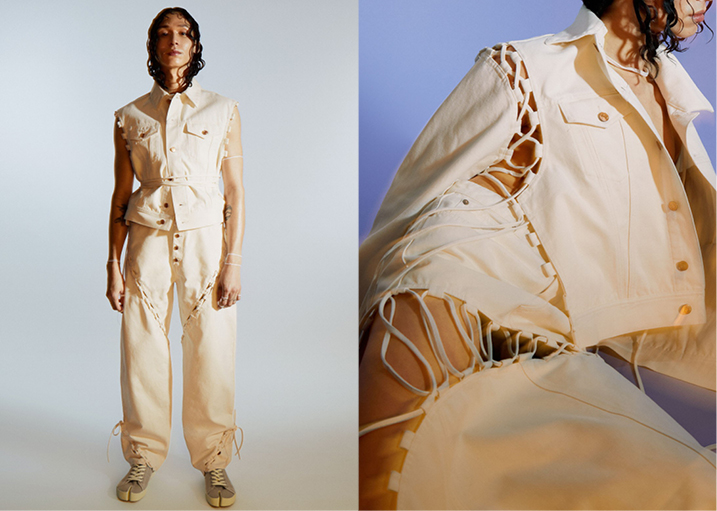 Weekday moves towards a circular model. We are learning to implement a circular mindset into every step of our value cycle, from designing products to enabling our customers to care for our products and eventually, to loop them back into the circle.
One important step in this journey is to use responsible materials, namely materials that are recycled or sustainably sourced. Our goal is to use 100% recycled or sustainably sourced materials by 2025. The current share is 97%.
We are 100% committed to doing better and work towards creating more circular products, and we still have a lot to learn in the area of circular design. We are moving towards a circular model by setting up goals.
Here are some of our goals for the upcoming years:
100% recycled or sustainably sourced materials by 2025.
Only reusable, recyclable or compostable plastic in our packaging by 2025.
Reduce value chain emissions by 56% by 2030.
Net-zero by 2040.
Some of our projects addressing circularity:
Choosing recycled materials as often as we possibly can.
Garment collecting in all our stores, in collaboration with I:Collect.
Weekday curated second hand in selected stores.
Redesign, giving new life to old products.
Studio Made, a creative space for designers, both inhouse and external such, to work on their craft. With Studio Made, the designers often use old materials when making something new.
Working with innovative materials such as Infinna.
Jeans Redesign, a project providing crucial learning about circular design.
Our design philosophy
Weekday stands for creativity and responsibility. As a creative team, want to develop products that meet our customers' expectations and beyond. We know our customers are savvy and that they expect a vision from us, and this motivates us to move ahead.
In our minds, circularity starts with design. This is our opportunity to create relevant products that last – from recycled and sustainably sourced materials that can recirculate multiple times before being recycled into new resources.
Weekday's design team thrive to find innovating solutions on how to create a more responsible assortment, and are supported by sustainability and material experts, buyers and others who contribute to forming Weekday's assortment. Materials potentially helping to 'close the loop' are often tried in capsule collections. The learnings from these projects are used in the work towards becoming fully circular in all production processes and moving beyond materials to work with circular design strategies.